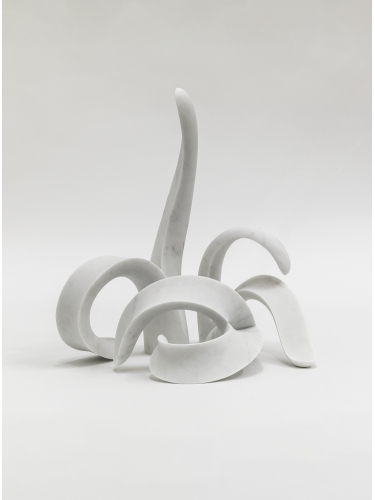 Gallery Pangolin is delighted to be presenting 'Unsentimental Beauty' an exhibition of sculpture, prints and drawings by the artist Almuth Tebbenhoff. The gallery has worked closely with Tebbenhoff for over 20 years and exhibited several of her large scale sculptures at both the hugely successful Crucible exhibitions at Gloucester Cathedral, 'ARK' at Chester Cathedral and most recently the extra-ordinary 'Back to the Cave' – Sculpture goes Underground exhibition at Clearwell Caves in the Forest of Dean.
This will be Almuth Tebbenhoff's first solo exhibition at Gallery Pangolin and we are excited to be displaying a wide selection of her unique works alongside several bronze and silver pieces cast at our adjacent foundry, Pangolin Editions. Newly realised works carved in luminous Carrara statuario marble from her latest time at the studios near Carrara, Italy will take centre stage.
Tebbenhoff creates work in a variety of different materials, inspired by nature and fascinated by the way objects of beauty and intrigue can emerge from industrial processes such as cutting and welding steel or pushing and pummelling wet clay.

An illustrated catalogue will accompany the exhibition with photography by Steve Russell Studios and text by Sue Hubbard, a freelance art critic and award winning poet and novelist.

"I can usually trace the process of a particular work back to a revelatory moment where I became conscious of something deeply important to me, such as everything being interconnected somewhere or everything being in constant flux. I then mine the thoughts and feelings to discover the next pieces in the mysterious puzzle of life." -Almuth Tebbenhoff 
Extract from the Gallery Pangolin press release.