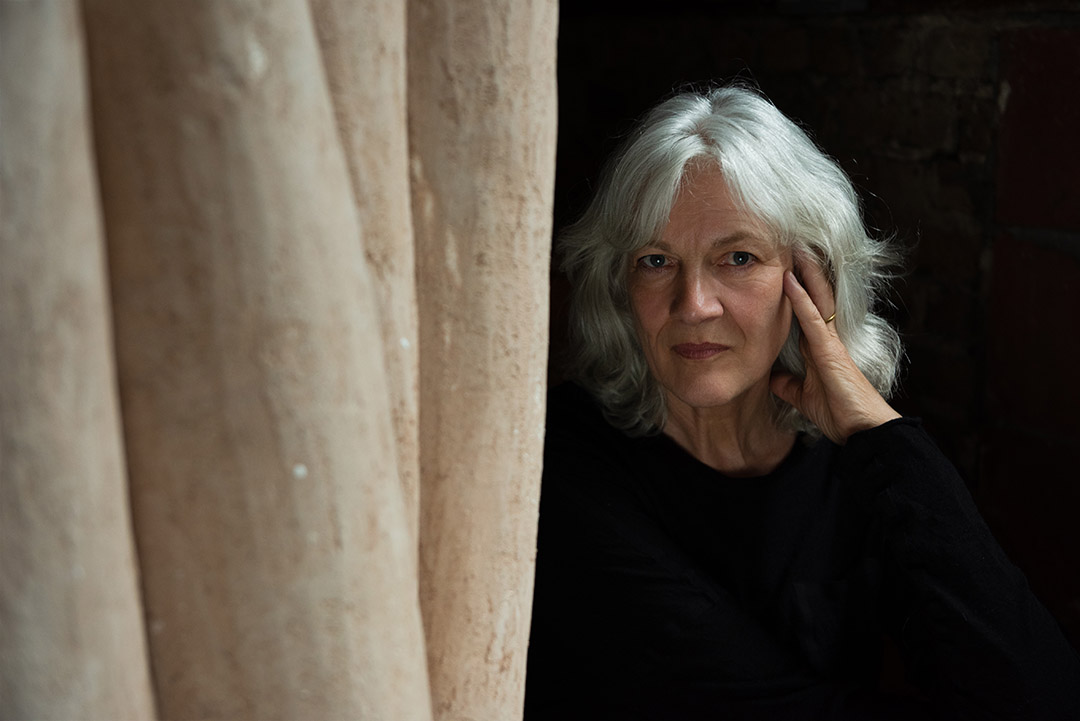 With thanks to Genevieve Stevenson for the above photograph.
About The Artist
Almuth Tebbenhoff is inspired by process: she loves the way objects of beauty and intrigue can emerge from a noisy session cutting and welding steel, sparks flying in every sense, or from a quieter but no less messy afternoon pushing wet clay around.
It's the simple fact of working with her hands to distil from dull, reluctant matter pieces that are always interesting, always challenging, invariably searching, frequently witty, often profound, and sometimes breathtakingly lovely. It is this physical labour of art that draws her restless spirit to sculpture.
She was born in Furstenau in north-west Germany. In 1969, a year after completing her secondary schooling, she moved to the UK where she studied ceramics at the Sir John Cass School of Art from 1972 to 1975. Following that, she set up a studio in London and for the next six years made studio ceramics, while she developed her ideas for sculpture.
In 1981, Almuth established her Southfields studio in a former church hall. At first she worked in clay and wood, but in 1986 she started a two-year course in metal fabrication at South Thames College, London.
Her early pieces were monochrome, mostly grey, abstract explorations of space and volume through geometric devices. Since the early nineties, Almuth has been moving towards a freer mode of expression, creating explosive forms in bright colours through a steady evolution of processes, investigating her current themes of light, space and the origins of matter.
Upcoming Exhibitions
2020: Exhibiting with The London Group ImPerfectum show at The Cello Factory, Waterloo. 29th Jan – 3rd Feb. Visit www.thelondongroup.com for more information.
2020: Waterflow and new sculpture at On Form Show at Asthall Manor. 14th June – 12th July. Visit www.onformsculpture.co.uk for more information.
2020: Installation and performance at Valley of Vision sculpture trail in Shoreham, Kent. 20th June – 5th July. Visit www.valleyofvisionsculpture.co.uk for more information.
Exhibitions (selection of solo and group)
2019: Two drawings 'You & Me' and 'Me & You' appearing in the exhibition Parallel Lines at the Lightbox Gallery, Woking.
2019: FreshAir Sculpture show in Quenington and in the Garden Gallery in Broughton.
2019: Curated the Waterloo Festival Sculpture Exhibition 'Coming Good – Come Hell or High Water' for The London Group.
2018 – 2019: Solo Show of Related Sculptures and Drawings at Salisbury Museum. Sep – Feb.
2018 – 2019: Waterflow at Salisbury Museum. 6th June – Feb.
2018: Sculpture at Cavendish Square Q Park for Frieze Art Week with the London Group. 5th – 7th Oct.
2018: "Sculptors Maquettes" show at Gallery Pangolin. 1st Oct – 9th Nov.
2018: Contemporary Sculpture with the William Bennington Gallery. 12th May – 20th October.
2018: Talk at Salisbury Museum. 19th Jun.
2018: London Group participating in the Waterloo Festival at St. John's. 7th – 24th June.
2018: On Form: Exhibition at Asthall Manor. 10th June – 8th July​.
2018: Summer Show at The Garden Gallery. 12th May – 7th July.
2018: To Mars With Love at The Royal Academy 250th Summer Exhibition. 12 June — 19 August.
2018: Exhibiting at the London Art Fair at Candida Stevens Gallery. 17th – 21st Jan.
2017-18: Selected pieces at Studio Expurgamento Exhibition, Camden. 10th Dec. – 14th Jan.
2017: Good Nature at the Candida Stevens Gallery in Chichester. 16th September – 28th Oct
2017: Dissolving Moon at the National Open Art Competition at The Bargehouse. 17th – 26th Nov
2017: Hung Out to Dry at the London Group Open Part 2 at The Cello Factory. 18th Nov – 1st Dec
2017: Artist Talk at the London Group Open at The Cello Factory. 1st December
2017: Making A Mark at the Garden Gallery in Broughton. 13th May 2017 – 8th Jul
2017: Ark at Chester Cathedral curated by Pangolin. 15th July – 15th Oct
2017: Sculpture Trail in Shoreham, Kent, the London Group, 17th and 18th June
2016: Fe2 16 at the Morley Gallery
2015: Sculptors' Jewellery at Pangolin London
2014: National Open Art Competition, Somerset House
2014: Sculpture Show Leicester, Botanical Garden of Leicester University
2014: Royal Academy Summer Show, Royal Academy of ARts, Piccadilly
2014: Crucible 2, Gloucester Cathedral – curated by Gallery Pangolin in Chalford, Stroud.
2013: Steel Sculptures, Chelsea Arts Club, London
2013: A Change of Heart, Leicester University Botanical Garden Sculpture Show
2012: Two in One, Gallery Pangolin, Kings Place, London
2012: Interesting Times, Leicester University Botanical Garden Sculpture Show
2012: Sculptors' Drawings, Gallery Pangolin, Kings Place, London
2010: Gallery Pangolin
2010: Crucible, Gloucester Cathedral – major exhibition by Pangolin
2010: Artdejardin at Wingwell
2009: Woburn Abbey
2009: Sladmore Gallery
2008: Burghley Sculpture Show
2007: Studio Sem artists in the Harold Martin Botanical Garden, Leicester University
2006: All Female Cast, Gallery Pangolin exhibition
2006: STEEL, Group exhibition at 1 Canada Square, Canary Wharf
2005: RBS Sculpture exhibition in Leicester Botanical Gardens
2005: Fe2O5, Exhibition of steel sculpture at Myles Meehan Gallery, Darlington
2001: Royal British Society of Sculptors, London
1995: In an Ideal World, Alternative Arts, London
1994: Petrified, Installation on matter in space at Jodrell Bank Science Centre, Cheshire
1993: International Art Centre, Poznan, Poland
1983: Emslandmuseum, Schlo – Clemenswerth, Germany
1990: Before Sculpture – Sculptors' Drawings, New York Studio School, New York, USA
Short biography
2019: Elected Vice President of the Royal Society of Sculptors
2015: Marble sculpture installed in Hong Kong
2015: First Anguillan Sculpture Symposium on Anguilla in November
2015: London Group Open Prize for steel sculpture
2015: National Open Art Competition Prize for steel wall sculpture
2013: Honorary Doctorate from the University of Leicester
2012–2013: Curated annual Sculpture Exhibitions for Leicester University
2009: Created the 'Star of London' award sculpture in bronze for the BFI London Film Festival.
2006: Fondazione Sem Scholarship, working with marble in Pietrasanta, Lucca, Italy
2004: Arts Council England Grant for Sculpture Installation at the Cafe Gallery, Bermondsey, London
2003: Short-listed for Battle of Britain Memorial in central London.
2002: Elected Fellow of the Royal British Society of Sculptors
1998: Commission: several sculptures for Goodwood
1997–2005: Studied life drawing inspired by Cecil Collins
1993–1995: Part-time lecturer at Loughborough College of Art and Design, Loughborough, Leicestershire
1991: Award from the Pollock-Krasner Foundation, New York
1986–1988: Metal fabrication classes at South Thames College, London
1981: Converted church hall to studio in London
1972–1975: Studied ceramics at the Sir John Cass School of Art, London